Discover more from The Wallfish Journal
An email newsletter about food, farming, and food culture in Somerset
Is this the best edible expression of Somerset right now? [WFJ #81]
When dining on hyperlocal field-to-fork produce in an old cow shed in a former orchard, it's hard to think of anywhere else
As regular readers of this newsletter will know (and as others might like to guess, given its title), there exists an ongoing struggle in understanding the true nature of Somerset's food identity, beyond that of simply cider and cheddar.
So far, one of the best ways of making sense of it all is to look to the county's independent restaurants (like this one). That said, more may be found slightly beyond the confines of a traditional eating place – somewhat rigid a concept as it is. 
This brings us to the village of Sparkford – population 617 – just outside Castle Cary. More specifically, to the old cattle shed at the end of Jules and Steve Horrell's back garden where, every Thursday, Friday, and Saturday evening, up to 30 guests sit together and yield themselves to what Jules and Steve call a 'micro-dining experience' almost entirely drawing on Somerset producers, if not the fruit, nuts, and veg from their own six and a half-acre smallholding.
If the ensuing name Horrell & Horrell doesn't ring a bell, the sight of them might – before opening their own venture this summer, they were running much of the show at Roth Bar & Grill, where Jules was general manager, and Steve headed up the kitchen as executive chef. After 14 years there, the time had come for something a bit different. "We thought, if we don't do something for ourselves now," Jules tells the WFJ, "we never will." 
As part of the new concept, cooking for 30 covers a night – rather than several dozen at Roth Bar – certainly allows for more attention to detail. It means Jules and Steve can have a much closer connection with the 15 local producers they use, many of whom – like Rose Adams, who makes goat's cheese in an old telephone exchange a mile down the road – are otherwise completely under the radar of a typical restaurant. "Rose makes three different cheeses from her herd of 20 guernsey goats," says Jules. "She only makes 10 a week, and you could never use that in a restaurant – you'd be lucky if they lasted one lunch service. But we can actually use it and really celebrate it."
Sourcing so locally seems like such an obvious thing to do for the two Horrells, it's barely mentioned as a USP. Maybe that's because, from their home, Jules and Steve have always had a productive garden – the difference being they no longer end up with a surplus, with their own fruit, veg, and flowers furnishing every service. And consulting their network of small growers when needing to add to that. "On a Monday," Jules says, "they pop in our WhatsApp group what they have that week. For example, Cam will come back to us from Off-grid Organics here in Sparkford, and say, 'this is what I've got.' And then Tia at Wild Garden will tell us what she has, and so will the other grower we use – Miriam and Nick from Little Old Lane Farm in Wanstrow."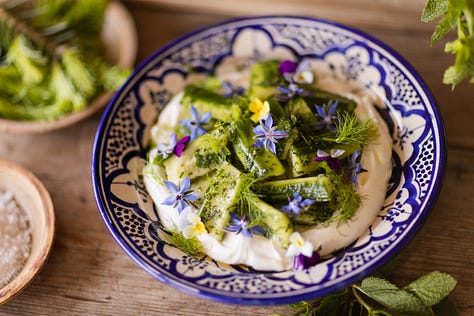 If Jules wanted to namecheck other producers they source from, she might mention Westcombe, Brickell's, and Landrace Milling the other side of Bruton; The Slow Farming Company in Castle Cary; Brown & Forrest outside Langport; Montgomery's Cheese literally next door; and Red Barn Farm towards Yeovil. In coming together to form a part of the centrepiece, they reflect a sense of place for guests, or as Jules says, the "here and now." To the same effect, and given the county it's in, the fact it all happens in an old cattle barn in a corner of what used to be an apple-growing hotspot certainly helps. "Our house used to be a barn for storing apples," Jules says, "and all our fields and all our neighbours' fields would have been orchards originally."
Enjoying this story? Subscribe now to get more like it right in yer inbox
Operating something far beyond the boundaries of your average eating place brings with it certain other opportunities, such as doing away with traditional restaurant tropes and preconceptions which are, in many respects, pretty limiting. Why cook over gas, for instance, when a wood fire (which has for 15 years or more been Steve's signature way of doing things) can provide nuanced flavours at a more civilised pace. Or why insist on a menu when not having one allows for spontaneity and fluidity, especially when it's all about cooking whatever the season decides to throw at you on any given day, and especially for the sanity of your chefs.
"Steve was a little fed up with having the same menu day in, day out," Jules says, "which you almost need in a restaurant for consistency, and definitely when it's a bigger operation. Now when people ask us what's on the menu, we say, 'well, you'll find out on the night, but do tell us if there's anything you're allergic to, can't eat, or really don't like.'"
An ideal world, I like to think, would involve a version of what Steve and Jules are doing not just in Sparkford but every village and town, if not every neighbourhood. I say that because of the sense of communality offered, and the exclusive but accessible nature of it (bookings are £45 a head).
But also, more than anything, the aspect of using, engaging with, and sharing an appreciation with what's around you. As Jules puts it, "We love an amazing mozzarella from Italy, or the best Seville oranges when they come in. There is a space for that as well, but if it's on your doorstep and it's good, why go any further?"
---